Service incidents are generally when something is broken, such as your agency website is down, your printer is broken, your network drive won't connect, or you are locked out of your account.
Frequently Asked Questions
A Service Request is used to request something new. Examples include access to a network drive, a software request, or a network request like a new port setup.
An Incident is used when something is broken. For example, a printer is not printing, you are unable to login to your computer, or you are unable to access email.
A System Access Request (SAR) is used when there is a new employee, employee change, employee separation, or employee re-hire.
Submit a ticket by logging on to servicedesk.idaho.gov or send an email to servicedesk@its.idaho.gov.
After-hours support is available for emergency issues only from 6:00 p.m. to 7:00 a.m. MT.  Please call the service desk number 208-605-4000 and press 9 to be transferred to the on-call support technician.
| | |
| --- | --- |
| Type of Service Request | Estimated Completion |
| System Access Request (SAR) | 3 Days |
| General Service Request | 4 days |
| Procurement Request | 2 weeks |
| VPN/Duo/Softphone Request | 3 days |
| Phone/Voicemail Change | 3 days |
ITS follows an Incident Response Priority Matrix to determine the resolution target of a Service Request based upon the impact and urgency, as illustrated in the Priority Matrix Chart.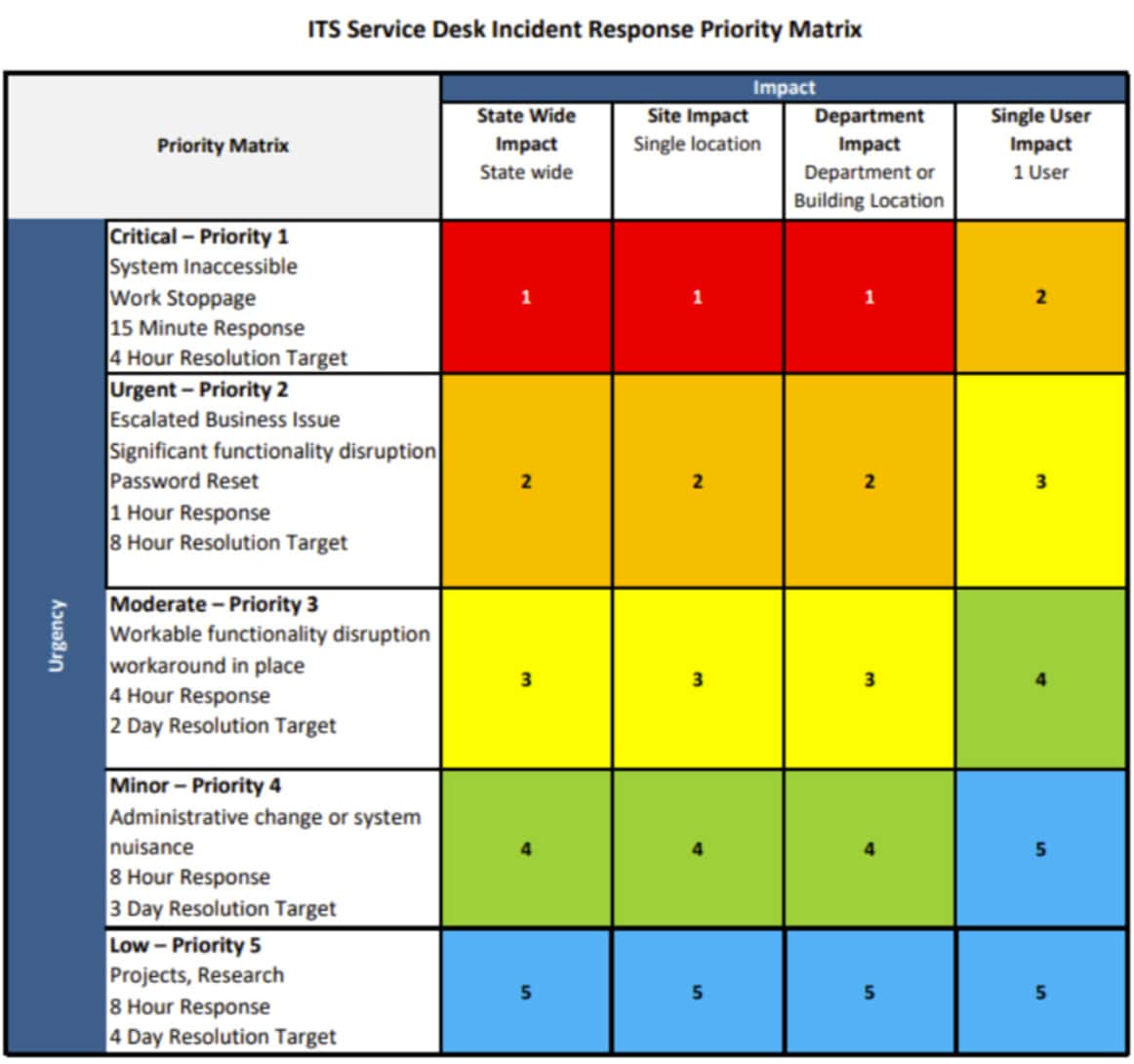 ITS has technicians located in Coeur d'Alene, Lewiston, Pocatello, Idaho Falls, Twin Falls, plus several locations around the Treasure Valley.  ITS technicians in each location support the surrounding areas.
Agencies consolidated under IT Modernization are eligible for Service Desk support by submitting a ticket or calling the Service Desk at 208-605-4000.
Hours of operation are Monday through Friday from 7:00 am to 6:00 pm MT; on-call hours for emergencies are Monday through Friday from 6:00 pm to 7:00 am MT and over the weekends.