Unlock the Power of Laserfiche for Streamlined Document Management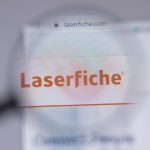 As part of our commitment to providing cutting-edge technology solutions, ITS proudly offers Laserfiche, a powerful document management system that revolutionizes the way government agencies handle their documents and processes. With Laserfiche, your agency can experience a myriad of benefits, including enhanced efficiency, improved collaboration, and simplified compliance.
One of the key advantages of Laserfiche is its ability to streamline document management workflows. Say goodbye to cumbersome paper-based processes and hello to digital efficiency. Laserfiche automates document routing, approval processes, and task assignments, eliminating manual bottlenecks and reducing administrative overhead. By digitizing and centralizing your documents, you can quickly search, retrieve, and share information, saving valuable time and resources.
Harness the power of Laserfiche with the support of ITS. Our experts will guide you through the implementation process, provide comprehensive training, and offer ongoing support to ensure a successful transition to this transformative document management solution. Streamline your processes, enhance collaboration, and simplify compliance with Laserfiche – a game-changer in the world of document management. Contact us today to learn more about how Laserfiche can revolutionize your agency's operations.